Submitted on Wed, 10/19/2016 - 16:54
Nemanja Vidic and Steven Gerrard are the two players that have received the highest number of red cards in clashes between Liverpool and Manchester United.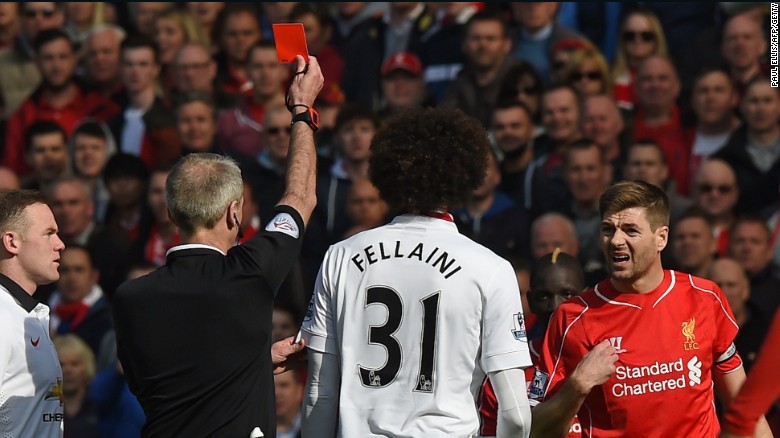 This revelation comes ahead of the game between both sides on Monday night in the English Premier League.
Anthony Taylor is the referee set to officiate the game and history reveals that both sides have a poor disciplinary record when facing each other going into this game.
Red Devils manager had admitted that Manchester-born Taylor was going to be in a 'difficult' position during the affair, but added that it was never going to be easy any way. In the last ten years, the Reds have played the Red Devils 25 times and ten reds cards have been shown, history say. On that count, Vidic has received four while Steven Gerrard and Javier Mascherano have received two each. If you were a gambling man, or a punter on InstaCasino, you could be forgiven for putting everything on Red!
Marouane Fellaini has received yellow cards four times in six recent meetings, proving to be a potential concern for United. In the last ten games, 51 cards have been shown. Liverpool received 26 yellow cards and one red card while United received 23 yellow cards and one red.
Mourinho knows how the game could go and has reportedly mentioned to the hearing of each player that they need to end the game with eleven players walking around the pitch. He knows that a red card against United will likely tilt the match in the favour of the hosts. Chris Smalling is the man to captain the visitors as they hope to get a point at Anfield in a hugely anticipated game.
United are hoping to get their season under Mourinho back on track –after faltering despite a decent start– while the hosts are hoping to reduce the gap with the league leaders, Man City.